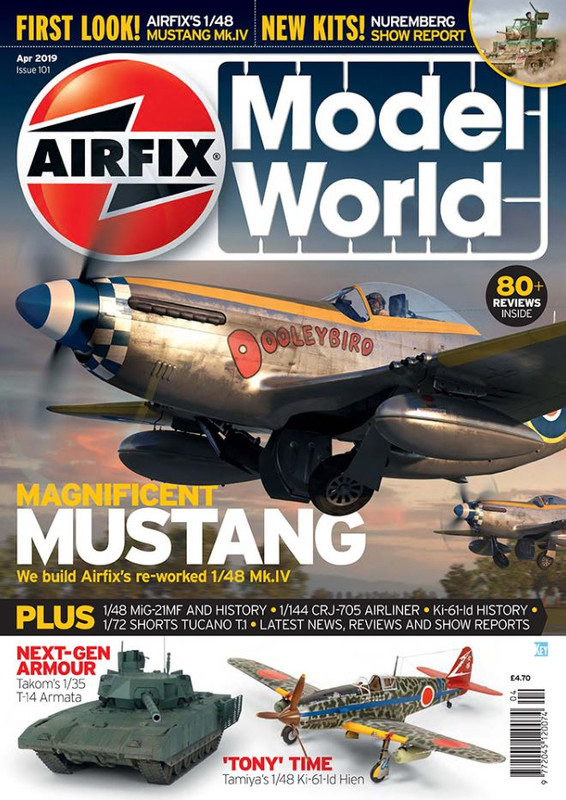 Featuring:
Intermediate Build – Oriental Flying Swallow
Tamiya's recently released 1/48 Ki-61 Hein receives aftermarket embellishment, courtesy of Steve Budd.
In Focus – Troublesome Tony
Malcolm V Lowe delves into the history behind the Kawasaki Ki-61 Hein, known to the Allies as the 'Tony'.
Out and About – Nuremberg News
Editor Stu Fone discovers the kits and accessories being released in 2019 at Europe's largest toy fair, held at Nuremberg's Spielwarenmesse.
Intermediate Build – Next-Gen Armour
Russia's latest tank design is the subject of Takom's 1/35 T-14 Armata, built here by Paul Cawte.
Basic Build – Cold-War Hotrod
Andy Davies finds there's much to enjoy with Eduard's newly tooled 1/72 MiG-21 Fishbed interceptor.
In Focus – Export Excellence
The MiG-21's served with most Warsaw Pact air forces during the Cold War. Malcolm V Lowe describes their service history.
Out and About – Thriving Oop North!
The 2019 model show season got underway in spectacular fashion at the University of Bolton Stadium's Premier Suite in late January.
Advanced Build – Italian Stallion
Garry Tobiss packs a bucketful of aftermarket accessories into Airfix's Commonwealth boxing of its delightful 1/48 Mustang.
Out and About – On The Road Again
Wakefield and District IPMS moved to a new venue in Halifax for this year's show, but there was still plenty for modellers to enjoy.
Intermediate Build – Regional Resin
Massimo Santarossa tackles Welsh Models' all-resin 1/144 CRJ-900 and configures it as a 75-seater CRJ-705 in Jazz Aviation colours.
Advanced Build – Tip-top Trainer
Airfix's commemorative limited-edition 1/72 Tucano T.1 'Lest We Forget' receives a resin and scratch-built makeover from Jen Wright.
and much more!
Pick up your copy now, direct from www.airfixmodelworld.com or in leading newsagents. Alternatively, you can download a digital edition here - bit.ly/2duSqMp
UK customer? Click here - bit.ly/2x0O2O8 - to find your nearest stockist.