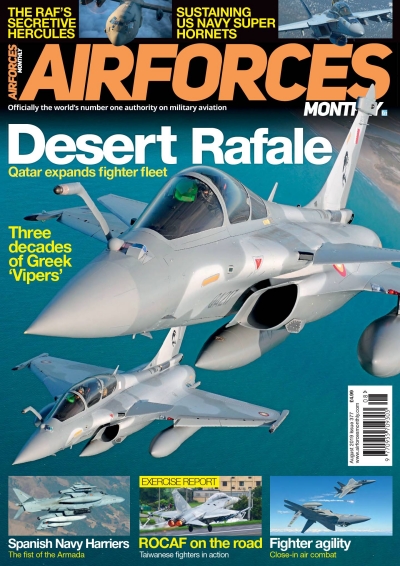 Featuring:
Rafales reach Qatar
The arrival of the first Rafales at Tamim Air Base marks a major milestone in the Qatar Emiri Air Force's ambitious combat aircraft modernisation plan.
Sustaining the 'Rhino'
The US Navy is in the midst of both sustaining and upgrading its all-important Super Hornet fleet. Patrick Roegies, Paul Gross and Jurgen van Toor chart the latest progress of the navy 'Rhino'.
Postcard from Uzbekistan
AFM contributor Anthony Pecchi provides a spectacular aerial study of three of the latest types to enter service with the rarely seen Uzbekistan Air Force.
Brothers in arms
Dr Andreas Zeitler joins the German Army's elite special forces on exercise with Luftwaffe pilots flying the Airbus Helicopters H145M LUH SOF (Light Utility Helicopter - Special Operations Forces).
Dutch heavy-lifters
For 25 years the Royal Netherlands Air Force's 334 Squadron has provided a strategic tanker and transport capability via its unique KDC-10s. Mike Schoenmaker and Niels Hoogenboom investigate.
Aegean Falcon turns 30
In January the Hellenic Air Force celebrated the 30-year service anniversary of the F-16. Patrick Roegies and Theo van Vliet look at the development of the Fighting Falcon within the air arm and its prospects for the future.
South Africa's UAVs flying high
South Africa was an early adopter of unmanned aerial vehicles and the military pushed drone development from the 1970s. Refined by combat experiences, the UAV industry blossomed in the 1980s and 1990s and, as Guy Martin explains, it's now being driven forward by new players producing everything from long-endurance UAVs to armed drones and optionally piloted aircraft.
Spain's Harrier carrier
Although usually described as a landing helicopter dock, the true designation of the Juan Carlos I is Buque de Proyección Estratégica - strategic projection ship. Rafael Treviño and Salvador Mafé Huertas went aboard to find out more about the Spanish carrier's capabilities.
Touch and go in Syria
The Ministry of Defence recently released a service inquiry report into the loss of an RAF C-130J airlifter during a special forces mission in the Middle East. Tim Ripley reads between the lines to explain the work of the RAF's sole frontline Hercules unit, the highly secretive No 47 Squadron.
Amendola pioneers
The Italian Air Force is making huge strides with its F-35 Lightning IIs, joining a number of international exercises and flexing the muscles of its new fighters, as David Cenciotti discovers during a visit to 32° Stormo.
and much more!
Pick up your copy now direct from www.airforcesmonthly.com or in WHSmith and leading newsagents.

Alternatively, you can download a digital edition here - https://bit.ly/2nqHK7b