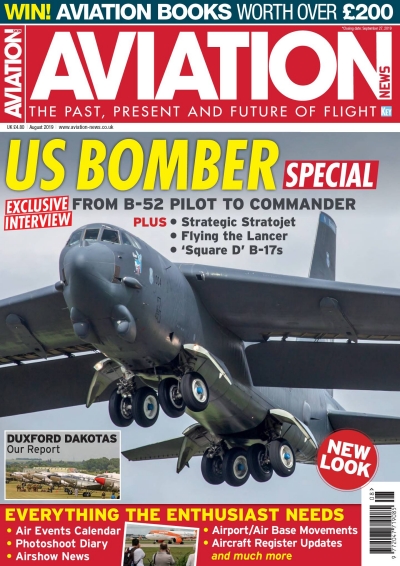 [/url]

August issue OUT NOW
US BOMBER SPECIAL
Featuring:
B-47 – Strategic Stratojet
Flown just over two years after the end of World War Two, the B-47 Stratojet embodied many firsts, both for Boeing and for the USAF. Large numbers were built but its career as a bomber was relatively short, as Lindsay Peacock explains.
Flying the B-1B Lancer
Philip Stevens asks B-1B aircrew about flying the bomber and how they employ its weapons systems.
Pilot and Commander: Buck's Buffs
From flying nuclear alert missions during the Cuban Missile Crisis to orchestrating B-52 offensive operations for Desert Storm, Lt Gen Ellie 'Buck' G Shuler, Jr, USAF (ret'd) spoke to Dr Kevin Wright about the highlights of his 32-year USAF career involving the Stratofortress.
PLUS!
Duxford's D-Day Dakotas
Imperial War Museum Duxford recently hosted a large number of Douglas DC-3 variants as part of the 75th anniversary of D-Day commemorations. Carl Wrightson was at the Cambridgeshire airfield to witness the spectacle.
Cubana Part 2: Revolutionary Times
Jozef Mols explains how after the Castro revolution the airline had to overcome significant challenges.
'Square D' B-17s
Bob Archer tells the story of the 'Bloody Hundredth' whose legacy lives on with the 100th ARW.

Global Retro Schemes Guide: Part 2
Aviation News presents the second part of our survey of retro schemes currently worn by airliners.
Foxhound to the Fore
Alexander Mladenov looks at the capabilities of the Russian MiG-31 fleet, which has gone through an upgrade and life extension programme.
Blue Islands' Purple Patch
Bernie Baldwin talks to the CEO of Blue Islands about recent developments at the airline.
REGULARS
Headlines
Paris Air Show Report
Civil News
Military News
Preservation News
Airshow News
Aviation Events Calendar
Flight Bag
Air Base Movements
Airport Movements
Register Review
and much more!
Pick up your copy now, direct from http://www.aviation-news.co.uk or in selected WHSmith and Sainsbury's stores.

Alternatively, you can download a digital edition here - http://bit.ly/2eviwvS

UK customer? Click here - http://bit.ly/2CoXiyV - to find your nearest Aviation News stockist
3 ISSUES FOR £5*
Subscribe to Aviation News by easy Direct Debit and receive your first three issues for just £5! Click here - bit.ly/2EbwSAZ - for details.
*UK customers only