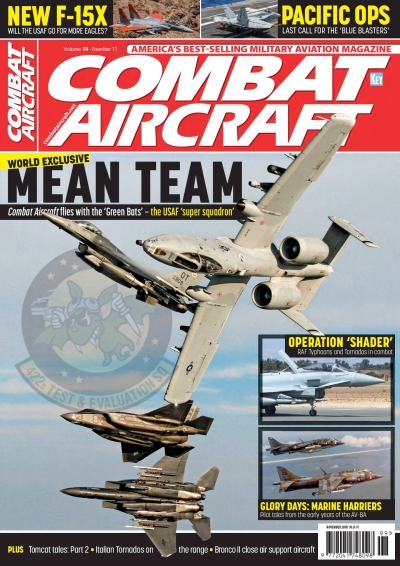 November issue OUT NOW
Featuring:
WORLD EXCLUSIVE!
SUPER SQUADRON — 'GREEN BATS' AT 75
Nellis AFB, Nevada, is arguably one of the most important installations when it comes to the US Air Force fighter community. Jake Melampy flies with the 422nd Test and Evaluation Squadron, which boasts a mightily impressive inventory that arguably eclipses many complete air forces
BRONCO II — BUCKING THE TREND?
The Bronco II is an obscure entrant into the US military light attack conundrum, but one that offers diverse capabilities in a bespoke airframe at lower cost than most other offerings, as Jamie Hunter reveals
THE OPS DESK: 'BADGER AIR MILITIA'
Scott Wolff's new column for Combat Aircraft looks at 70 years of the Wisconsin Air National Guard
TALES OF THE TROUBLESOME TOMCAT — PART TWO
LT Neil 'Waylon' Jennings and Tony Holmes describe one of the more spectacular F-14 Tomcat accidents during the type's long US Navy career, detailing the incident in the second part of this feature
POWERING AHEAD
Tom Kaminski looks at the US Army's Improved Turbine Engine Program — a new powerplant to improve the operational flexibility of its Black Hawk and Apache helicopters
DRAKEN'S DEN
Frank Visser meets Draken International, one of the leading contractor air service providers in the US and recent winners of a competition to furnish ongoing support at Nellis AFB
BOMBING AT DECI
As the Tornado GR4 completes its final year of service with the Royal Air Force, which is set to become the first operator to retire the type, David Cenciotti looks at the wider Tornado community — starting with the Italian Air Force
F-15X — EAGLE VISION OR FAR-SIGHTED?
Jamie Hunter assesses the chances of the US Air Force buying a batch of advanced F-15s to plug its air defense gaps
GLORY DAYS: VERTICAL CHALLENGES
In the first of a two-part series, Joe Copalman looks back at the AV-8A Harrier, the US Marine Corps' first step towards a V/STOL tactical air force
DAESH DESTROYERS
The Royal Air Force is four years into a campaign as part of the coalition to defeat the so-called Islamic State. Jamie Hunter discovers a mission that's evolved considerably and that now sees the Typhoon gearing up to assume sole responsibility for the UK fast jet element as the Tornado bows out of service
and much more!
Pick up your copy now, direct from
www.combataircraft.net
or in leading newsagents. Alternatively, you can download a digital edition here -
bit.ly/2kvgVwt
UK customer? Click here -
bit.ly/2NG3Cbz
- to find your nearest stockist.