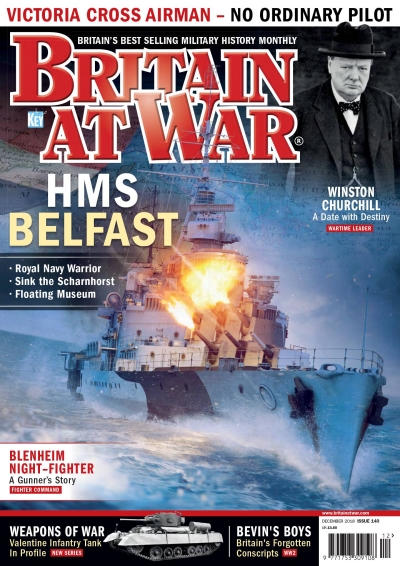 Featuring:
HMS Belfast: Early Days
In the first of three features exploring the lengthy career of an iconic Royal Navy warship, Professor Eric Grove details HMS Belfast's design and early service.
Sink the Scharnhorst
On Boxing Day 1943, Belfast and Duke of York helped to spring a deadly trap on the Scharnhorst. Professor Eric Grove describes the Battle of the North Cape in this action-packed feature. Additional words by John Ash.
National Treasure
Editor Nigel Price discovers how HMS Belfast ended up as a museum on London's famous River Thames during an interview with the ship's IWM curator.
The 'Lucky' Gunner
Britain at War correspondent Melody Foreman relates the story of one man who served in the RAF's elite night fighter squadrons after exclusively interviewing the family of a veteran air gunner.
Waging War Against the Odds
Director of the Churchill Archives Centre, Allen Packwood, delves deep into the life of Winston Churchill as he became Prime Minister in our darkest hour.
Pick up your copy now from www.britainatwar.com . Alternatively you can download a digital edition from www.pocketmags.com , simply search 'Britain at War'.