Sorry that this has taken so long to post, I've been waiting for broadband for what seems like ages, and I've finally got it today after having to fork out for my own modem because the ****** ISP never bothered to send one.
Anyway, back to the flight.
We left Hotel Partritius in the morning and caught the train to Brussels Noord and then the airport (at least no strikes today!) We should have flown home on 27th December, but the flight was cancelled and we were rebooked onto the afternoon one of the following day, so at least we had an extra day to enjoy our holiday (and "T'awd Barrel's" delightful chips and pork chop! - it was so nice to discover that little gem in Zeebrugge!)
Our flight was scheduled to depart at 16:40, and we had to wait until two hours before to check in. We had dinner in Brussels Cafe (nice to see some new additions to the menu) and I had tortellini pasta, which was quite nice. Afterwards I had my first ever Duvel in Belgium, and it was nice to drink it from its proper glass.
At check in we were given seats 10D and 10F, and then we went through security, passport control and into the duty free shopping area, where we bought some of our beloved genever (or is it jenever - I've seen it spelled both ways sorry if I used the wrong spelling).
Our flight was to depart from gate B27, and it was operated by the same aircraft we had flown in on - G-RJXL - an ERJ135. There were several other bmi flights departing at around the same time - EDI and LBA as well as EMA.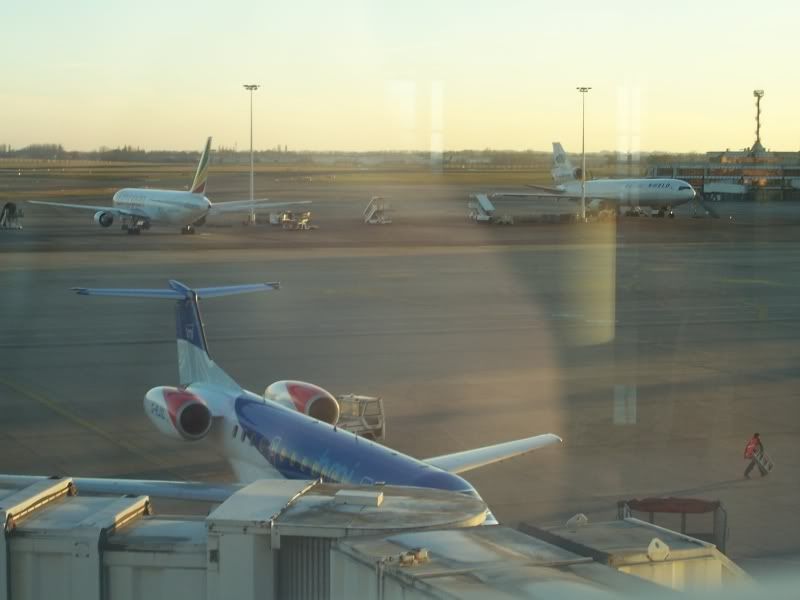 Our aircraft parked at the gate.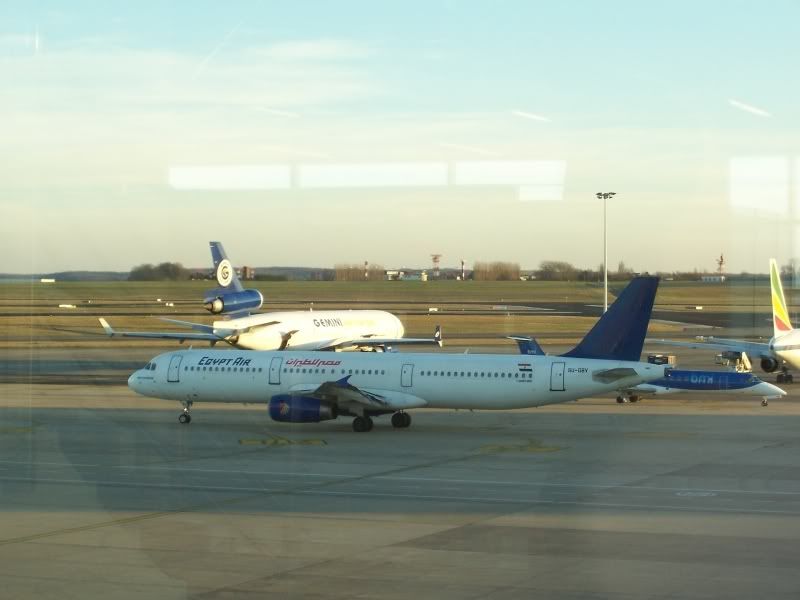 Sorry for the reflection, but I couldn't resist bagging my first ever Egyptair!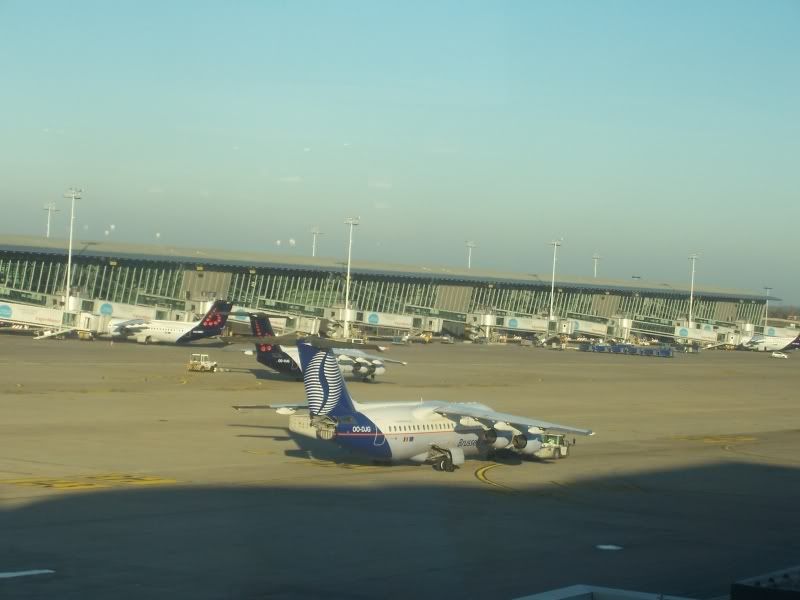 Our old pal Stinker displays its "S" tail livery.
At 16:14 we were invited to board via the outside steps of the Embraer. We were greeted by the stewardess Zoe and settled into our seats. We had a wing view again.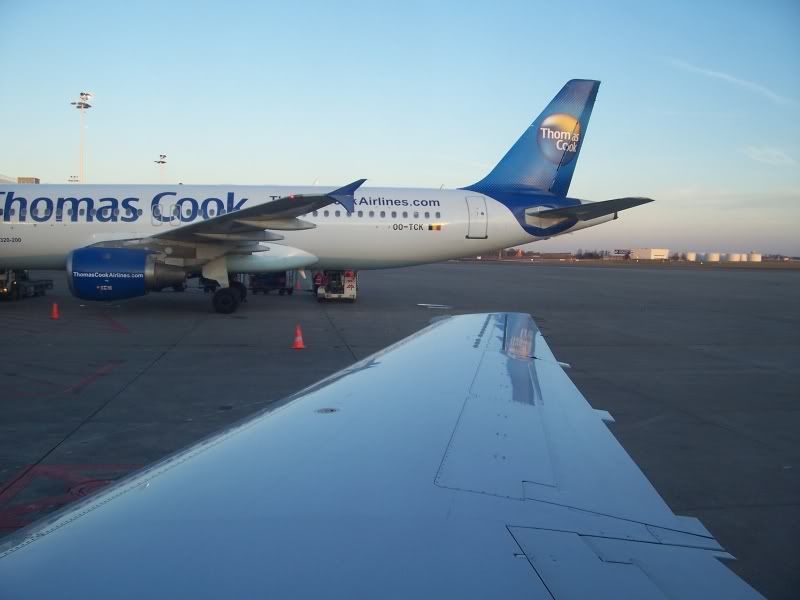 The view of a Thomas Cook Belgium Airbus.
The flight seemed more full than the previous one.
We were pushed back at 16:39. We had an informative captain called Harry, who told us we would be flying at 27,000 feet and the flight would last around 55 minutes. He expected smooth cruising conditions but said that winds at EMA meant we would most likely have a "bumpy" approach.
The safety demonstration commentary came from a tape recording, and was carried out as we taxied.
At 16:49 we took off from 25R.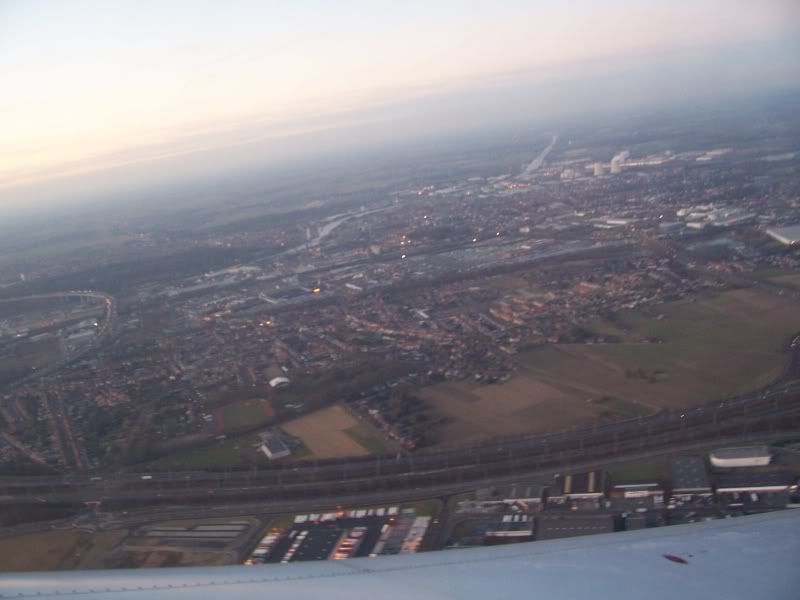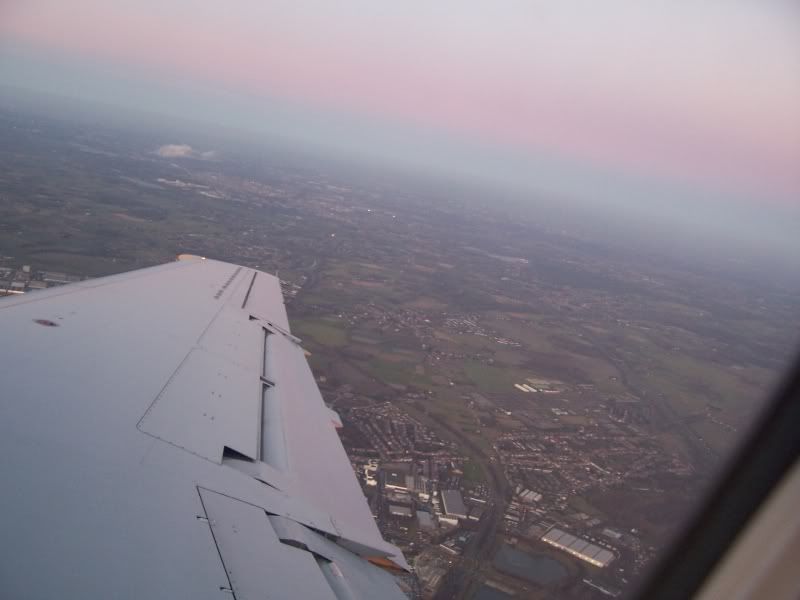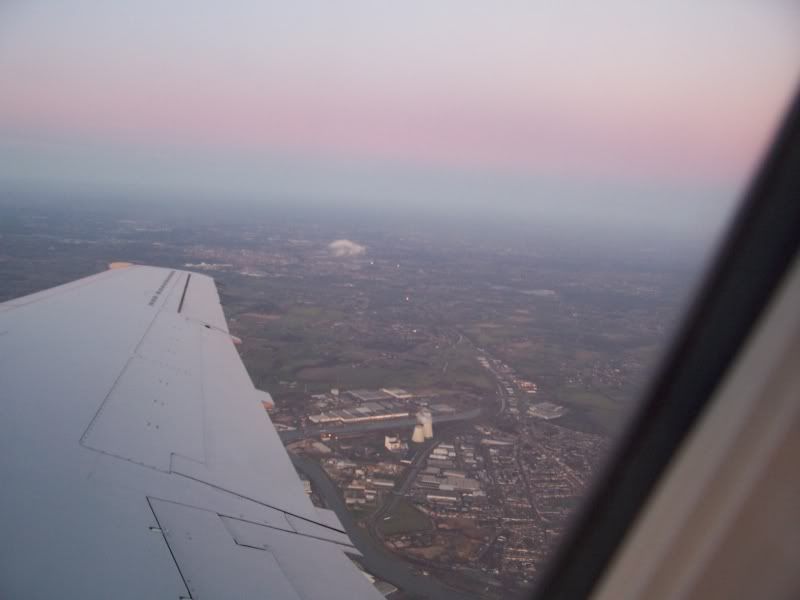 Some after take off views. It was a bit hazy during the climb, but smooth.
Again there was a choice of sandwich on board - turkey and stuffing, egg mayonnaise, ham salad and cheese and "Christmas chutney". I was unfortunate in my choice of cheese and "Christmas chutney". I expected "chutney" to be nice and tangy, something like pickle. What I didn't expect was sweet mincemeat and galvanised rubber on very dark bread. It looked unappetising and it was unappetising!!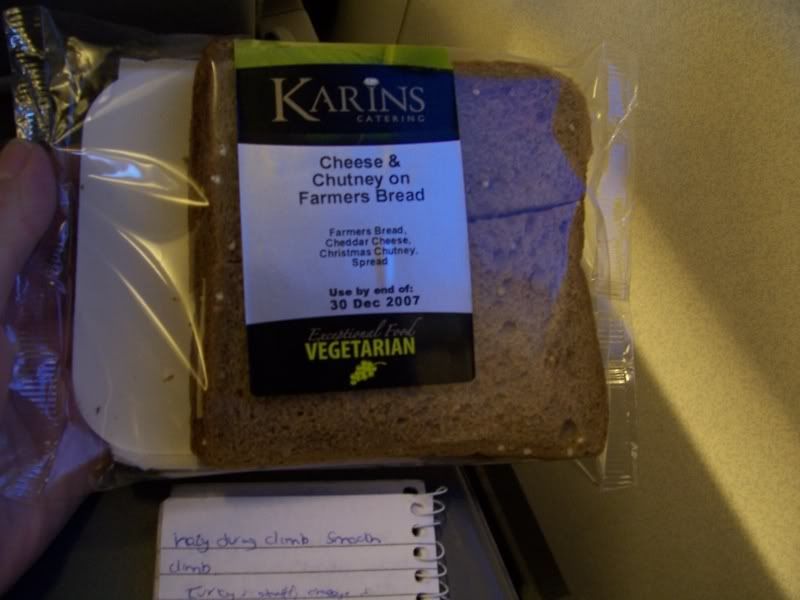 The sandwich. If ever offered this on bmi - avoid!!
I had orange juice to drink.
There was cloud at altitude, and as we descended there was slight turbulence.
Lower down it became very murky and it was clearly raining. And then the winds kicked in!! The wings were up and down and we had to hold on because the swaying was quite serious, not for the nervous flyer. I haven't experienced a landing like that since was landed in MAN on AF and the wing tip nearly hit the ground. Although the little plane was being blown sideways, the landing was remarkably smooth, and we touched down at 16:39.
We were collected by bus to go to the arrivals, but there was a long queue (several planes had just landed) and so we waited in the bus because of the rain. We were queuing for ages, but it was a quick moving queue. After passport control we bought some sandwiches in the Spar shop before catching the bus to Derby, the train to York and then home to Scarborough.
It had been a great trip, apart from the strike, and I would definitely fly on bmi again.
Although I enjoyed my Duvel, I won't be having a new favourite just yet. My heart still belongs to this little beauty...