Note: This trip took place almost a year ago but I decided to post it because NIKI and Air Berlin aren't covered very often on this forum.
Morning surprise by new NIKI A320 - evening screw-up by Air Berlin
Intro
Early in 2006 year a friend and I decided to go on a spotting trip to VIE, booking a 78 Euro return fare on Air Berlin. Flying times on the NUE-VIE and VIE-NUE legs were ideal for a day trip on a national holiday (June 15th). Timetables on AB and NUE airport showed an A320 on the outbound and a B738 on the inbound flight - the A320 leg showed an AB flight number without an "operated by"-addition, so we were convinced to find an Air Berlin A320...
Originally I hadn't planned to write a report about a rather usual short haul trip on Air Berlin - but as so often, the trip didn't turn out to be a normal one at all...
Thursday, 15. June 2006
Nuremberg (NUE) - Vienna (VIE)
Air Berlin AB8374 (operated by NIKI)
08:00-08:50 (08:00-08:58)
Flying time: 00:49 (hrs)

Airbus A320-214
OE-LEE "Reggae" (c/n 2749), delivered 04/2006
Seat 26A
Early morning surprise
We met at 06:30 at the main entry and immediately went to AB's check-in area. Within a few minutes we got our boarding passes after requesting seats in the back. We were also offered to receive our boarding passes for the return service as well and we agreed - though the lady didn't allocate us to the back again and reserved seats in row 3. Oh well, but I decided to change that in the evening at VIE.
The observation deck wasn't accessible yet (entry via a restaurant which doesn't open before 07:00), so we went through security and took a seat at the front end of the gate area. Of course we were curious whether we would really get the AB A320, so we hoped that no AB B734 or B738 would arrive in the next 30 minutes...suddenly, only ten minutes after seven, an A320 appeared on approach. I couldn't perceive much, but it wasn't an AB aircraft for sure. Then I spotted a large fly at the silver fuselage and it was clear - NIKI!
Of course, no NIKI flight had been scheduled to arrive and we started thinking again - probably an aircraft change for our VIE flight? Though, we didn't expect too much after certain experiences in the past. And the arrival time was really early.
The plane turned out to be OE-LEE, the newest fleet member (back then), delivered in April 06. It was unloaded, pax were disembarking, but would it be turned around immediately?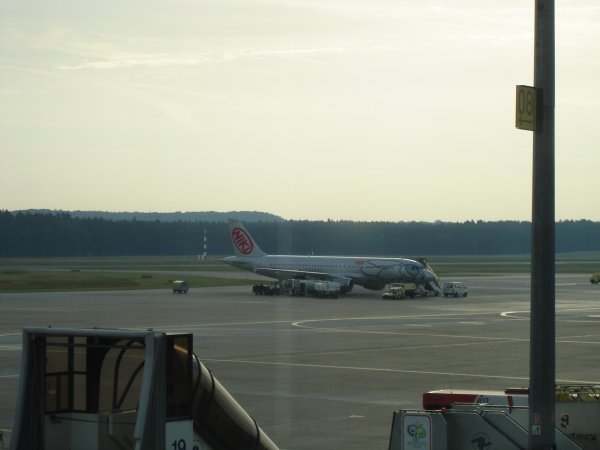 At 07:35 some AB staff showed up at the gate and it was confirmed - yes, the NIKI plane would operate the VIE service!
It turned out later NIKI operated that service for a while before AB took over again.
Flight
Along with some 50-60 other pax with we were bussed to the aircraft and some people had surprised looks on their faces when they realized that the aircraft with the large fly on its front would carry them, rather than the expected "Malle-Bomber" (Air Berlin aircraft = Mallorca shuttle).
We decided to head for the rear stairs so that we could walk around the wings and take some pictures. Engine featuring Internet address: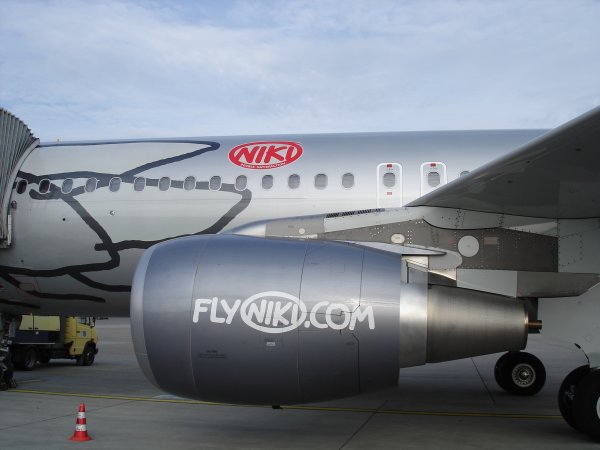 Note the fly at the top end of the tail: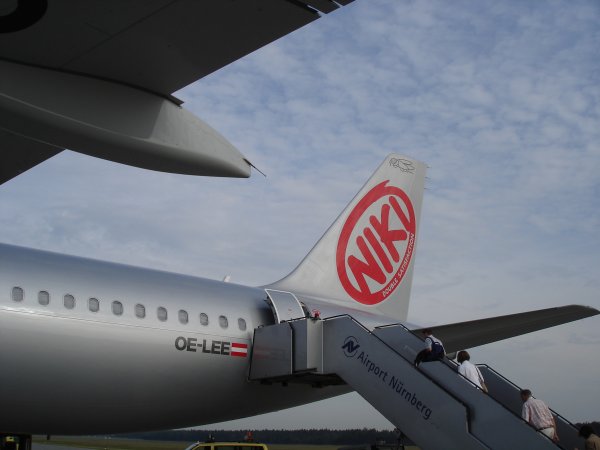 Double Satisfaction
- Niki Lauda's way to emphasize the importance of both price and service: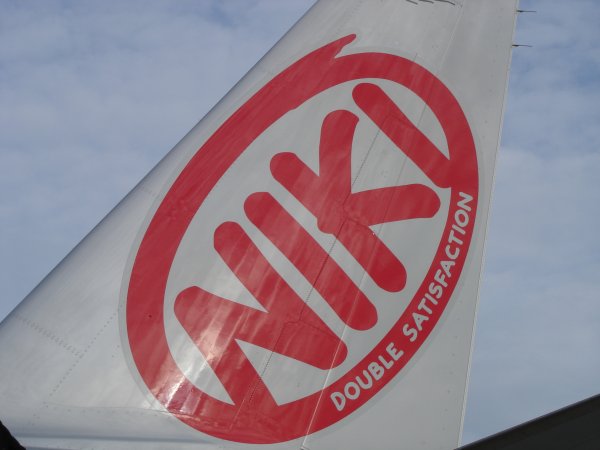 Spotless fuselage of this almost brand new aircraft: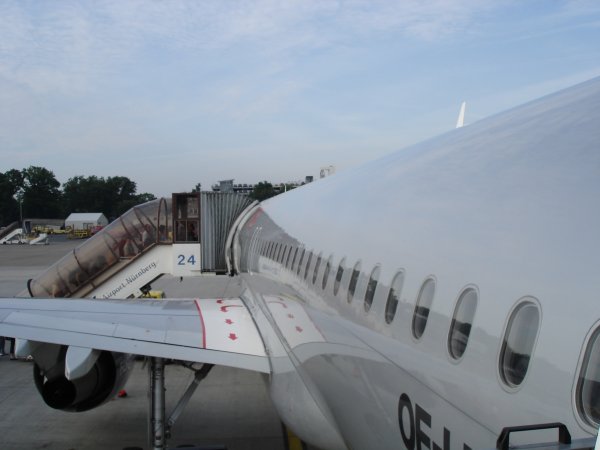 We were welcomed by a friendly female F/A and went to our row. Modern leather seats...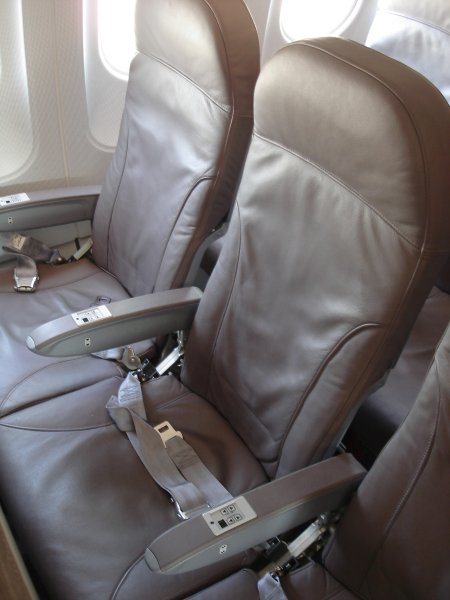 ...but the pitch is not really satisfying. 180 seats are simply too many on the A320. The seat pocket is located above and behind the table, but it doesn't help much: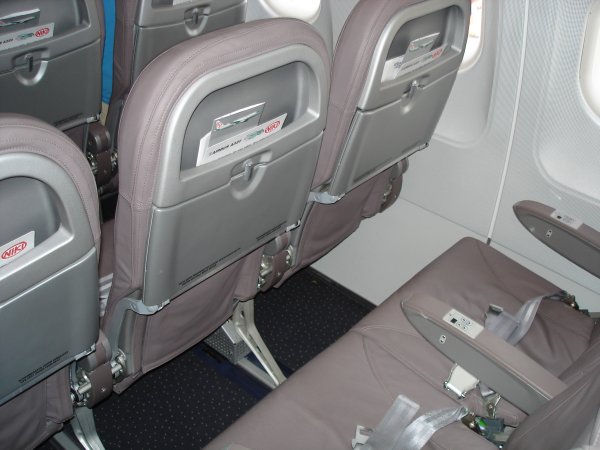 With a load of only 30-35%, boarding was completed fast and doors were closed. The F/As passed through the cabin and offered a wide selection of newspapers and magazines.
Then the safety video on the foldout screens was started. A fly buzzed around and finally started talking...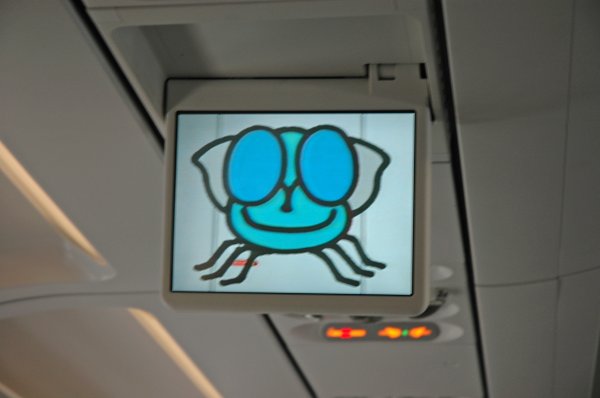 The voice sounded familiar and after a few seconds I realized it was Niki Lauda's voice - a really funny move to lend the voice to the virtual fly for the safety demo!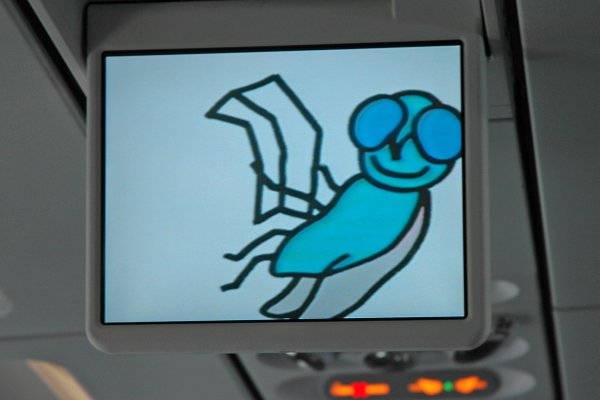 We left the parking position on time and OE-LEE accelerated only five minutes later. NUE's tower and Eurowings' maintenance area: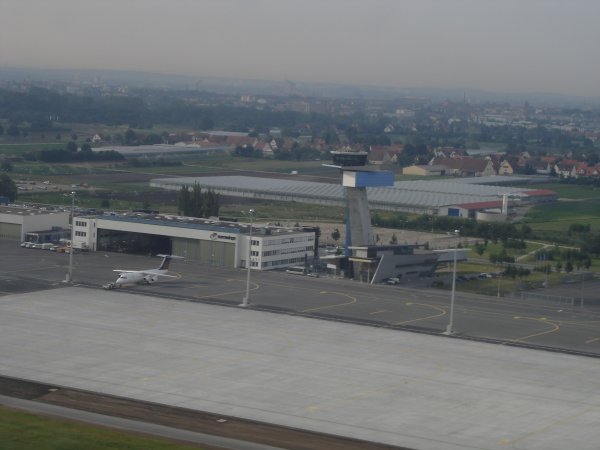 NIKI didn't stop to surprise us and presented a stunning airshow, called
AirTrack 3-D
: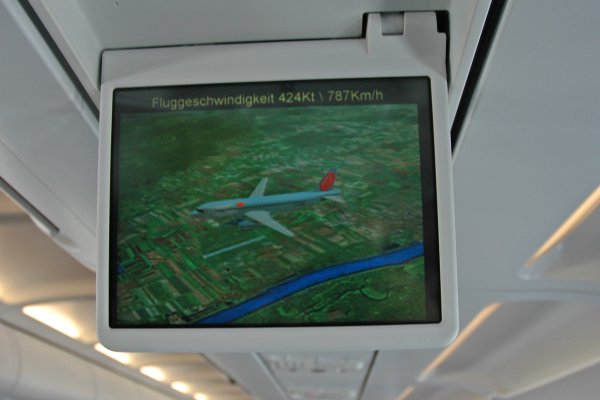 Of course, a sickbag is not just a "sickbag" on NIKI (for all non-German speakers: "vomit bag"):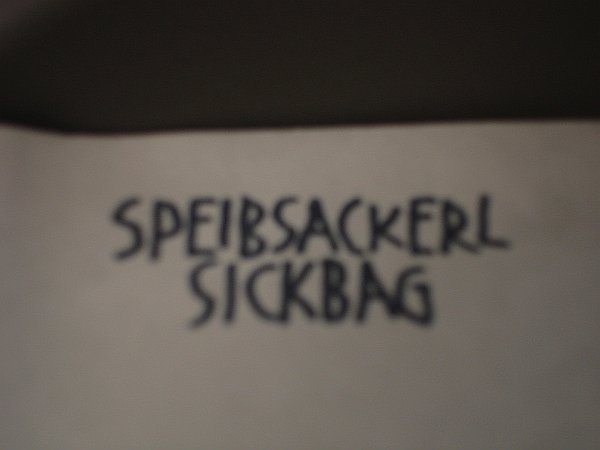 Gourmet food
The F/O informed us about the route (maximum altitude was 8880 meters), a video was shown, introducing the new gourmet food offerings available on Air Berlin and NIKI in cooperation with Attila Dogudan's Do&Co and the exclusive Austrian bakery Demel (also owned by Dogudan). Since May 30th 2006, passengers have been able to purchase gourmet snacks and menus, ranging from 7 to 14 Euro.
Depending on the time of travel, breakfast (e.g. fresh fruit with chocolate mousse or a plate with ham, eggs and potatoes) or lunch and dinner options are available. Of course, you find the famous "Wiener Schnitzel" (breaded veal) and "Kaiserschmarrn" (dessert with plums) among those. I wasn't very hungry in the morning, so I decided to try these offerings on another flight. If I recall correctly, AB and NIKI now offer these gourmet snacks and meals on flights over 90 minutes.
Non-alcoholic drinks and regular snacks are free and I decided to order an orange juice and a coffee at once. Sandwiches (ham or cheese) are packed in triangular red boxes - a design which Niki Lauda had once introduced on Lauda Air: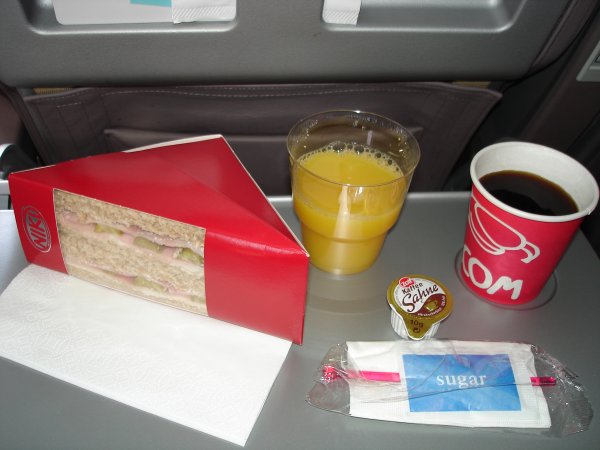 The whole grain sandwiches are very tasty, not the standardized stuff you get on many carriers today: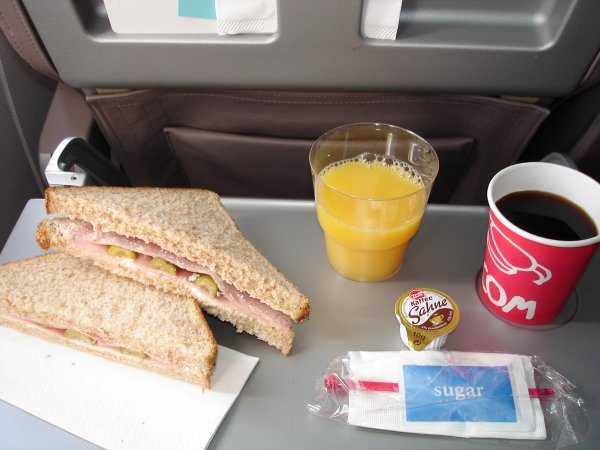 Survey
15 minutes prior to landing passengers were asked to take part in a survey. Small flyers along with envelopes were distributed and one could rate the airline and add personal comments. I praised the airshow feature, but criticized the tight seat pitch and rated the gourmet offerings as a slightly overpriced.
Descending...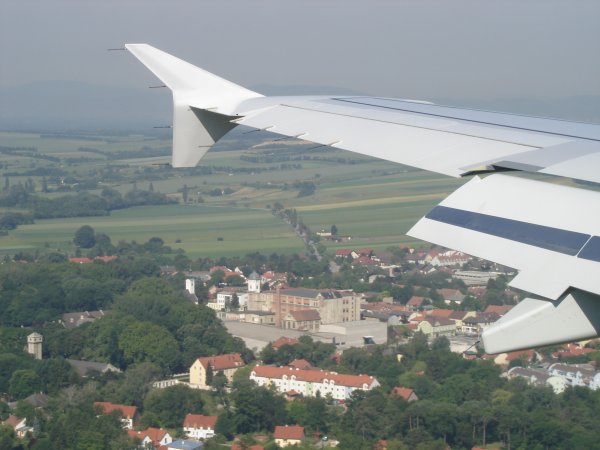 Seconds prior to touchdown the pilots apparently decided to do it the hard way and so the A320 was brutally bumped onto the runway...
Spotting at VIE
Since spotting opportunities aren't the best around the terminal at VIE we had booked a rental car. Actually we had reserved the smallest category and expected a Smart or Renault Kangoo, but again these were not available and just like at BRU earlier in the year we got an upgrade. This time it was a brand new Ford Focus C-Max equipped with A/C, a true relief on that hot day!
We drove around a bit and finally found a small road which would lead to the departure runway. However, the road is closed for cars, so we had to walk about 2 kilometers to reach the spot. Once there, we enjoyed nice views and an interesting range of aircraft, e.g. Austrian B763 OE-LAT (Star Alliance cls):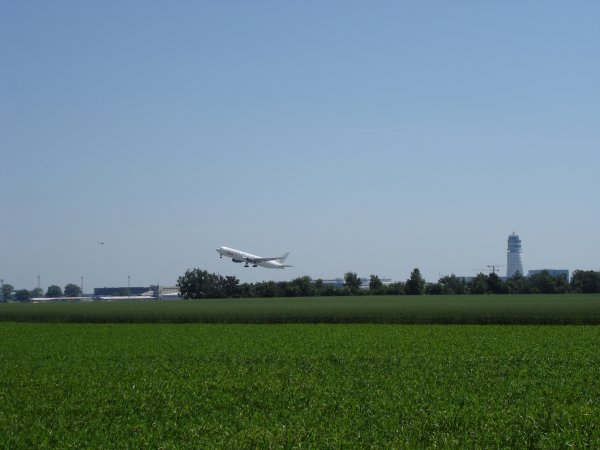 We returned our car at 18:30 and approached the NIKI counters in the LCC hall on the opposite side of the main terminal building.
Thursday, 15./16. June 2006
Vienna (VIE) - Nuremberg (NUE)
Air Berlin AB8255
20:20-21:20 (01:16-02:09)
Flying time: 00:44 (hrs)

Boeing 737-86J (winglets)
D-ABAE (s/n 782), delivered 03/2001
Seat 31F
Shock!
The check-in area was quite packed with holiday travellers and families and we first wanted to leave again, but I really wanted to receive a new boarding pass with a new seat allocation. The baggage belts at the counters were out of order and the check-in staff had to remove the heavy suitcases manually...
After 25 minutes of waiting it was our turn and after checking our reservation the slightly stressed lady asked us:
"Are you aware that your flight is delayed? Ahhh, severely delayed?"
We were surprised and said just
"No"
, but then we were shocked when she added:
"New departure time is 01:05 at night!"
What? Delayed by
FIVE HOURS
? We couldn't believe what we heard and immediately said that this wouldn't be acceptable. She then asked us to complain at a ticket counter on the other side of the hall.
Passenger rights
I was really mad since I wouldn't be home until at least 04:00 in the morning and I would have to be back at work at 09:00! We decided to try to get a booklet with a list of EU passenger rights before complaining at the sales counter - we simply wanted to make sure that Air Berlin grants us any compensation which we were entitled to.
We approached an information desk at the main terminal but surprisingly a lady told us:
"No, we don't have anything like that!"
Wow...
Then we asked at an AUA counter and we finally got what we wanted.
Compensation: phone calls and lounge
Freshly equipped with that booklet we spoke up at the counter but they immediately offered what we were entitled to: free drinks and food plus the option to make phone calls. They gave us vouchers which would grant us access to the "Grand Danube Lounge" and within minutes we had passed security and entered the rooms in question. The first impression was ok, but the variety of food was very limited. Only pretzels, nuts, biscuits and a chicken salad were available. In contrast, the variety of fine alcoholic drinks was stunning, but my car was waiting at NUE, so I plundered the juice, water and coffee bar.
We found out that the lounge would close at 21:00 but after sitting around for 1,5 hours on rather uncomfortable chairs we wanted to leave anyway. So we had no choice but to kill the remaining hours by sitting around at the gate areas, walking through shops and watching the very slow late evening traffic. At least I could watch the world championship game Sweden-Paraguay on a large TV screen in the middle of the departure hall, though there were no seats around in that corner...
New departure time...
Finally, shortly after midnight, we went to our gate and another surprise waited for us: the departure time had been extended even more to 01:30! It seemed to get worse and worse. I was really concerned about the possibility of a late cancellation of the flight. We could be really glad that NUE doesn't face night operations restrictions...otherwise the flight would have been cancelled most likely.
Though many passengers looked frustrated and tired, nobody turned really mad or complained loudly. One member of the ground crew finally told us:
"Good news, the aircraft is on the ground!"
Well, as long as it doesn't mean "AOG", I thought...
After entering the bus, we had to wait again but finally we were brought to the aircraft.
Flight
The plane was D-ABAE and had that large
"Stiftung Warentest-Testsieger"
(= test winner)-sticker next to the door - I really had to laugh. When I was welcomed by a female F/A I said:
"Good to see that the test winner has finally arrived!"
She still smiled, but I don't want to know her thoughts...
We settled down at our row - worn and outdated interior: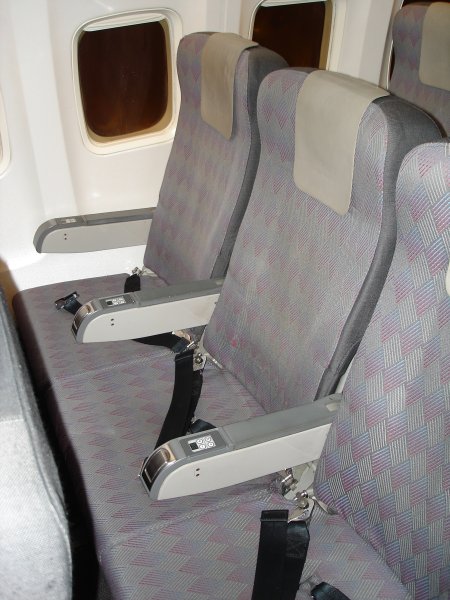 Seat pitch not satisfying either: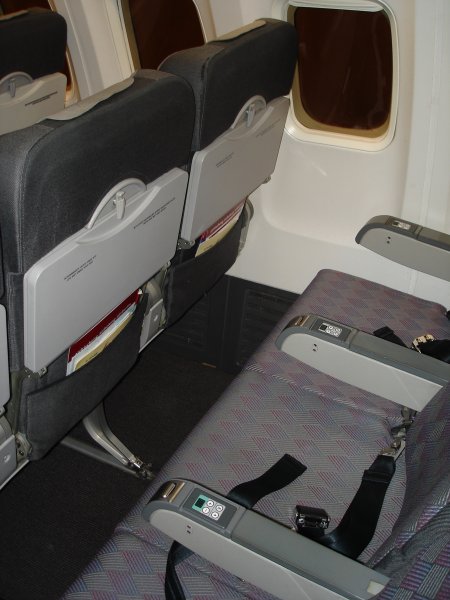 Boarding was completed very fast, another light load at around 40-50%. Within a few minutes we climbed into the dark sky.
AOG
After a while we were finally told what had gone wrong. The captain explained that a plane at Palma de Mallorca had been grounded which severely affected the schedule. And as we had already speculated, the late arrival from London-STN was turned around again in order to pick us up at VIE. Though, that flight from STN was late by 40 minutes, too, which caused the additonal delay of our departure.
There was no talk about the gourmet food on that flight, nevertheless, we got drinks and sandwiches. However, I immediately realized that we had got two sandwiches on NIKI, and only one on Air Berlin. Simply compare the pics: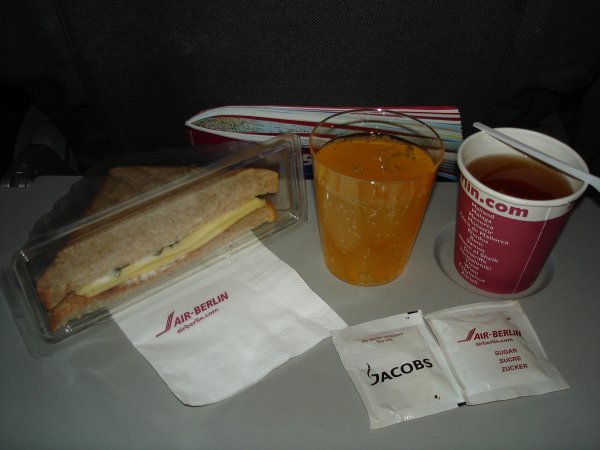 Interestingly, the plane was also equipped with the
AirTrack 3-D
advanced IFE system. The remaining flight was uneventful and after only 44 minutes we touched down at NUE. Unfortunately, most football charter flights had already left that day - some 30 planes had been on the ground earlier in the evening (England vs Trinidad & Tobago at Nuremberg).
Conclusion
NIKI is definitely a great airline which I can fully recommend, Lauda simply knows how to run a passenger friendly airline. "Double Satisfaction" says it all, good level of service at reasonable fares. Food and drink service as well as the variety of newspapers and magazines are superb for a LCC, the new IFE is amazing. However, the number of seats should be reduced.
Air Berlin offers similar service components (and the same seats on the new A320s), though it doesn't feature that "special touch" of NIKI. Of course the long delay turned me mad for a while and caused a very unpleasant stay at VIE, but that can happen with any carrier - that's the risk of a day trip. At least AB didn't cancel the flight which would probably have happened on numerous other carriers. And Air Berlin respected the EU passenger rights which other LCC carriers don't care about.
As usual, comments, opinions and questions always welcome!
Best Regards,
PlaneHunter