This was my first trip to America and I loved it. It was also my first time on Virgin Atlantic, but I wasn't overly impressed. Here goes:
VS017
Saturday 10 February
G-VSEA, Airbus A340-300
Scheduled Dep Time: 2010
Actual Dep Time: 2040
Scheduled Arr Time: 2250
Actual Arr Time: 2250
Having left home at about 1400 to allow plenty of time to negotiate the M25 to Heathrow, we got to our parking place parallel to 27R/09L at about 1600 so we waited there for a bit and did a little plane-spotting of arrivals on 09L before hopping on the courtesy bus to ther terminals. T3 is whene Virgin's check-in zone A is, which is currently having some work done to it, leaving it in a fairly ugly state but I'm sure it'll be great when it's done. In the short queue, we had to show our Paypal receipt for the APD and then we were duly checked in. Seat 54A was assigned to me.
I didn't rate the departure lounge much - very noisy, dark and cramped and not a good impression to make to any foreign travellers who may be travelling through.
. On the departures board, there was a heavy delay to a Virgin flight to Jo'burg and a Cathay flight to Hong Kong was cancelled! Fortunately our flight was operating and at 1855, Gate 28 was shown next to our flight on the board.
After having another security check upon entering the gate area, we boarded slightly late at 1930 in a very organised manner and were met by a lovely, smily crew. To get to the economy cabin, you have to walk through Upper Class Suite. That's definately the way to travel if you've got the money.
Premium economy, for the extra you pay, didn't look that much different from normal economy. The economy seats each had a pillow and a blanket on every seat, as well with your TV monitor in the seat back.
It was a fairly busy night in Terminal 3, and a PIA 747 was being prepared on the stand next to us on stand 326 (I think). Not much else happened until we shut the doors and pushed back at 2015.
The animated safety demo was shown - I found it quite entertaining lol, as we taxied out to 27R. At this point, the captain introduced himself and explained that we were in a bit of a rush to get off, but that the first officer would be flying the trip, the flight time would be 7 hours 22 minutes and that there were a few aircraft to go before us. We moved slowly along the taxiway until we stopped at PLUTO hold. Among the aircraft before us were BA 320, BMI 145, EK 777 and an AF A318/319. As we lined up, a Korean Air 747 was behind us.
After a very long takeoff run, we took to the air at 2040 and climbed very slowly to 34000ft, past Windsor before entering clouds. We were on our way!
Meal service started about 90 minutes later. There was a choice of Mushroom Risotto, Pasta with Chicken, or Beef Stew, but only Beef Stew was left when they came to economy. Served with the hot meal was bread roll, pasta salad, cheese and biscuits, Buxton water and a fruit pudding. This was all edible but nothing great.
The IFE entertainment on the A340-300s is the Odyssey system, which is nowhere near as good as their V-Port system but it still has a decent selection of films available, as well as games and TV programmes. I watched Jackass The Movie 2 and afterwards watched the moving map and saw that we climbed 2000ft after leaving the NAT.
Descent started very early, it seemed, at 2200 New York time, and ten minutes later the captain came on again and informed us of the weather - 'clear and cold': -4 degrees with a litle NW wind. The pilots certainly were men of few words on this flight! Seatbelt sign came on with 230 track miles to go and the IFE was switched off. A lovely night view of NYC came into view as we circled around to land on 04R at 2250.
The biggest surprise of the whole trip is how quickly we got out the airport. Disembarkation to getting in a taxi took only 25 minutes which was excellent. This time flight is good since there are barely any other flights arriving at this time so immigration is quick!
VS018
Friday 16 February
G-VAIR, Airbus A340-300
Scheduled Dep Time: 0820
Actual Dep Time: 0925
Scheduled Arr Time: 2000
Actual Arr Time: 2045
After a short delay due to a baggage belt fault, check in started and immediately they were asking down the queue whether people want to transfer over to the evening flight, since this flight was overbooked. They were offering a hotel room for the day, meal vouchers and a free return ticket for each passenger, which is really a very good offer. I was desperate to do this, especially since the evening flight is a A340-600, but my parents said no.
. Since there are no food facilities after security control at Newark, we sat down in the food court and had a bite to eat. I heard a few cargo aircraft going off as well and one which looked like a 727.
At 6.20 we went to Gate 53. Once again, immigration/security was deserted. Not much was going on at our pier - a BA 767 could be seen in the distance along with an El Al 747. Our plane's crew got onboard at 7.10 and the captain did the external inspection. Time ticked away, enough time to watch a Midwest Airlines 717 taxi out and takeoff, before boarding started at 7.55. This was a completely different experience to that in London. It was extremely chaotic and shambolic with no announcements being made, resulting in people getting onboard at the wrong times causing blockages in the aisle. The dispatcher was looking very stressed as we finally got onboard, at about 8.20.
About 10 minutes later everyone was onboard and our captain and first officer, who was called Julian Evans, came on apologised for the delay. That said, he was hopeful of making up some time because our flight time was only 6 hours 22 minutes and that 'Newark isn't busy at this time of day'. 25 minutes later we still hadn't pushed back and there were 15 aircraft to depart ahead of us, at which point he came and retracted his statement
. The first officer would be doing the flying, again.
22R was being used for takeoff and there were plently of Conty 737s about as well as a Fedex DC10 and an American 757. Some aircraft were also using the cross-runway to land.
Eventually it was our turn to go and the chimes were sounded to advise the cabin crew to sit down. We took to the air shortly after 0925 and the long departure queue was obvious, including the BA flight to LHR which was also delayed like us. The intial departure routing took as back past the airport and Manhattan but we were too high to get any picture, plus the window was dirty. 37000ft was our cruising level, which was achieved near Boston.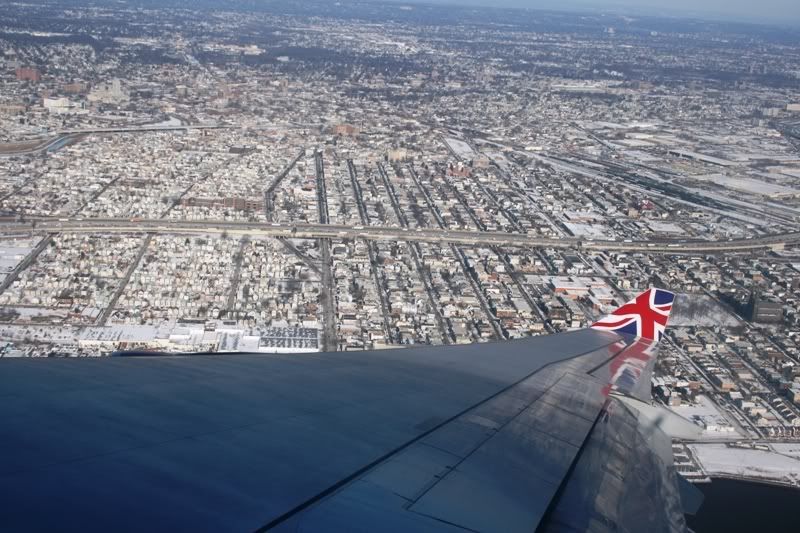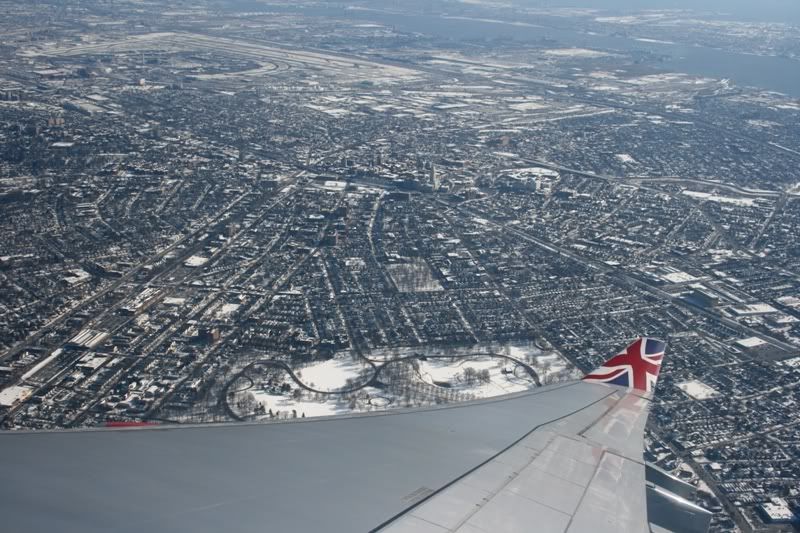 The meal was served at just over an hour after takeoff by some rather surly cabin crew. It was a frittata with some yoghurt, juice, biscuit and about 4 little pieces of fruit on the tray as well. I wasn't too impressed with this. A drinks service was started a couple of hours later and the seat belt sign went a couple of times for turbulence, as the sun started to go down behind us. An ice cream lolly was chucked at us by the crew along with some pretzels. Ice cream was nice but not really appropriate in February, especially given that the temperature in New York was about -8 degrees.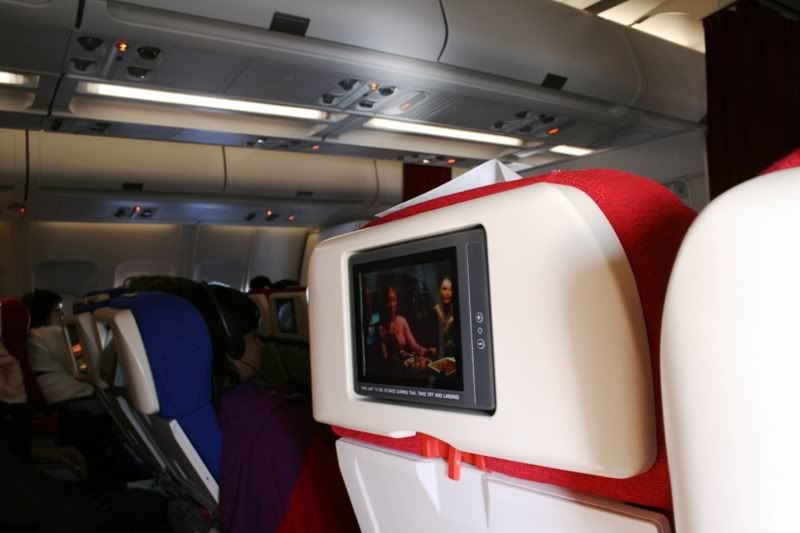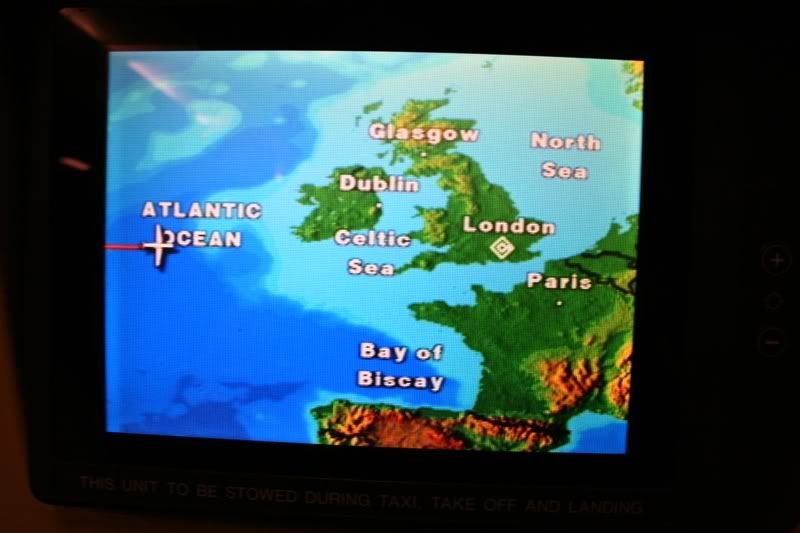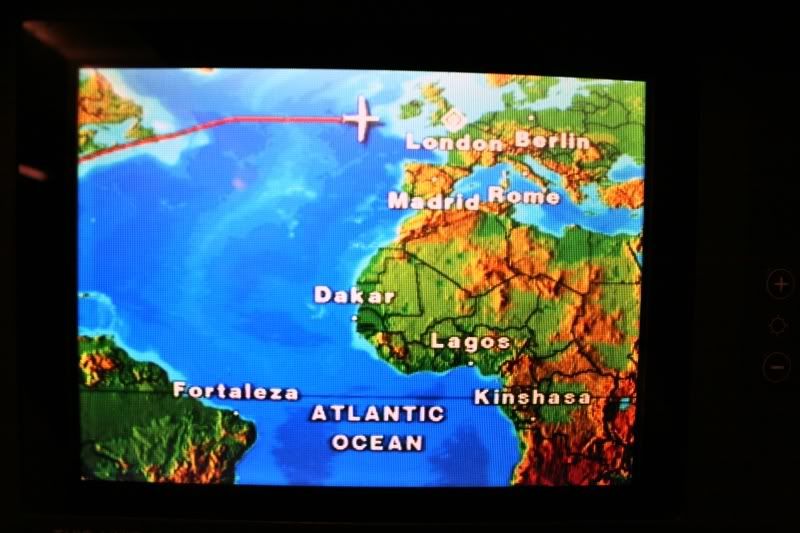 With an hour to go, a tea/coffee/juice/water service was done and a flapjack or shortbread biscuit given out and as I finished my movie, I switched on the Skymap and we were abeam Cork and Waterford at 39000ft, with 280 miles and 39 minutes to go. Approaching the Welsh coast, we descended and the lights went out for landing as we did a 180 turn to set us up for an approach to 09L. A lovely smooth touchdown as well as a good view of terminal 5 followed, and as we vacated another 5 landing aircraft could be seen on the approach
.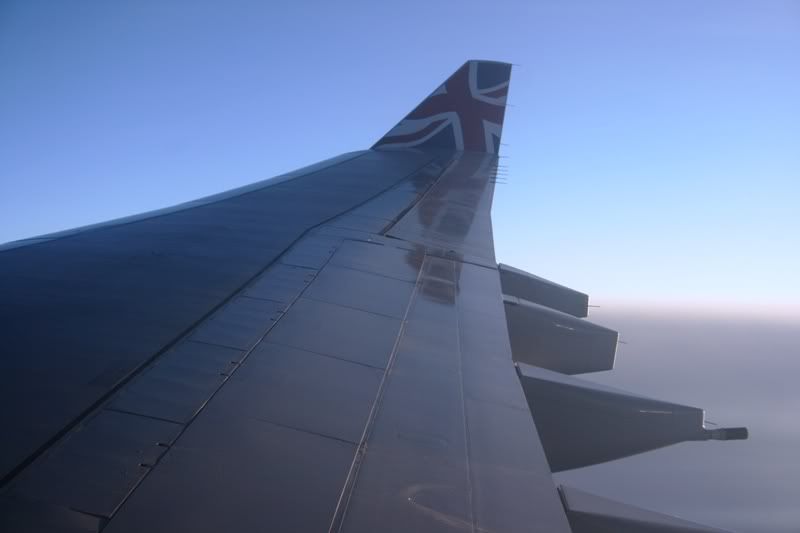 I've since discovered why our flight was probably heavily overbooked - the previous day, the VS18 diverted back to JFK after passing Boston due to reports of smoke aboard. G-VFAR is still there and is returning today, 2 days late
.
Overall, I give Virgin the following scores:
Punctuality: 7/10
Service: 6/10
Comfort: 6/10 - quite a tatty cabin
Overall - 6/10.
Hope you enjoyed.