Last week we made our annual winter-beer buying trip to Brussels. Unlike the trip last November, we were flying from Manchester. We booked a night in Bewleys Hotel near the airport and spent Monday spotting while there was sufficient daylight.
On the 14th November we had an early start, as we had to catch a train at 07:04 from Scarborough to Manchester Airport, the train was due into Manchester at 09:47, which gave us plenty of time to spot after checking into Bewleys. We had booked Bewleys online, and had been given a reservation number only, no vouchers to give to reception. I do not like this idea at all, and our worst fears were about to be realised when the receptionist told us that there was no record of our reservation in the system! That was the first and last time we reserve that hotel via its own website! I dread to think what would happen if this had been a flight. They managed to find us a room, but if they had been full I don't know where we would have stayed. The rest of the stay in Bewleys was uneventful and pleasant, as I do like that hotel and its very handy location.
On the 15th November, after breakfast and checking out of Bewleys, we headed across to terminal 3 to check in. The check in is manned by British Airways and also handles all their European flights as well as SNBA and Finnair. We were given seats 8A and 8C, and it was nice to see BRU going onto our solitary checked in suitcase.
After check in we went straight through into the departure area, as that is good for spotting aircraft you cannot see from the cafe, and the morning is a good time to see US heavies which I have had few opportunities to photograph. The American Airlines services to Boston and New York were being prepared,s o I took photos of both aircraft in the early morning sun (it was a sunny cold day, better than the previous day!)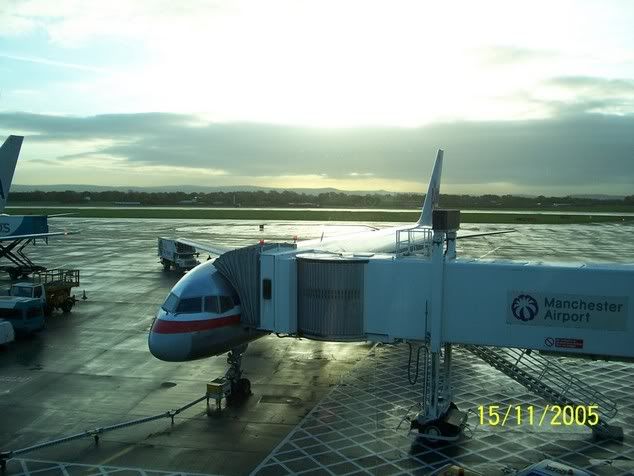 The American Airlines 757 parked at its gate. I believe this may have been the Boston aircraft.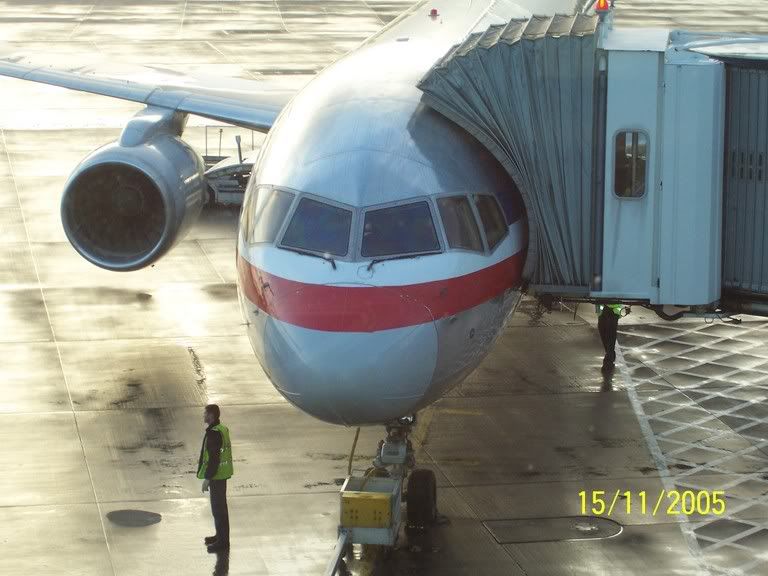 A close up of the 757's nice nose.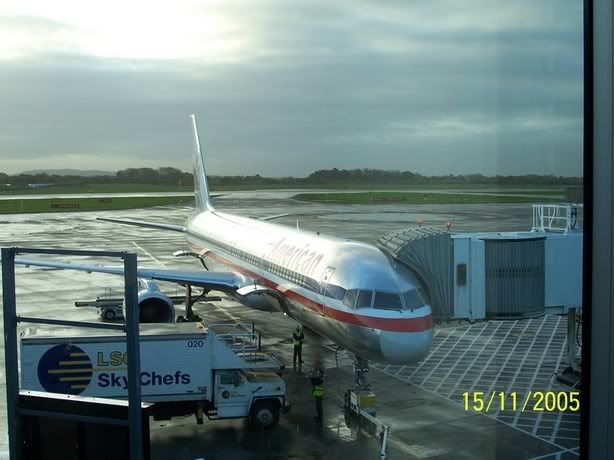 A different view of the 757.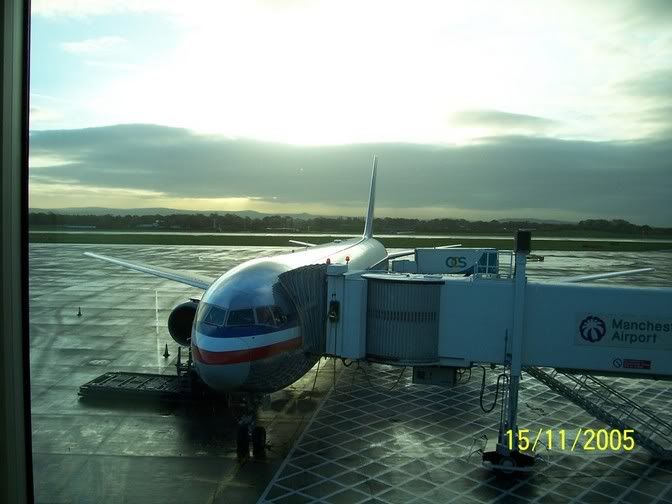 The American 767, believed destined for New York.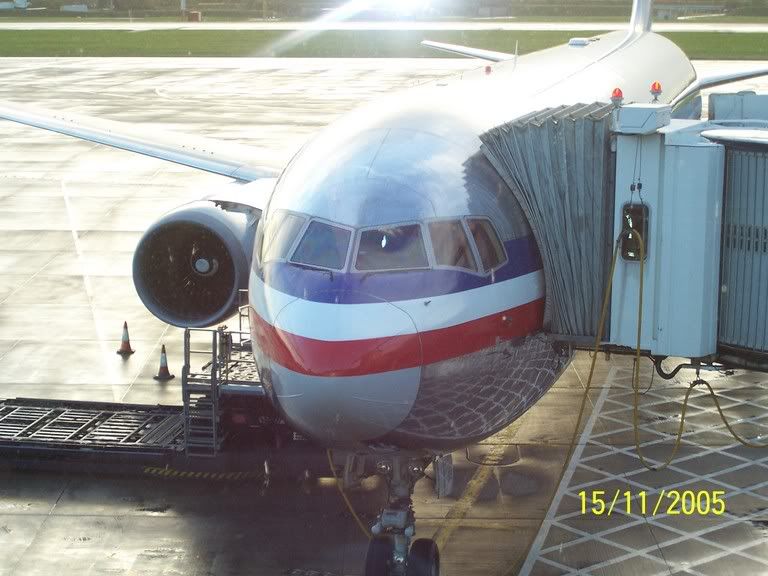 A closer view of the aircraft.
British Airways also had a 767 service to new York being prepared, this is the only intercontinental BA service from an airport outside London.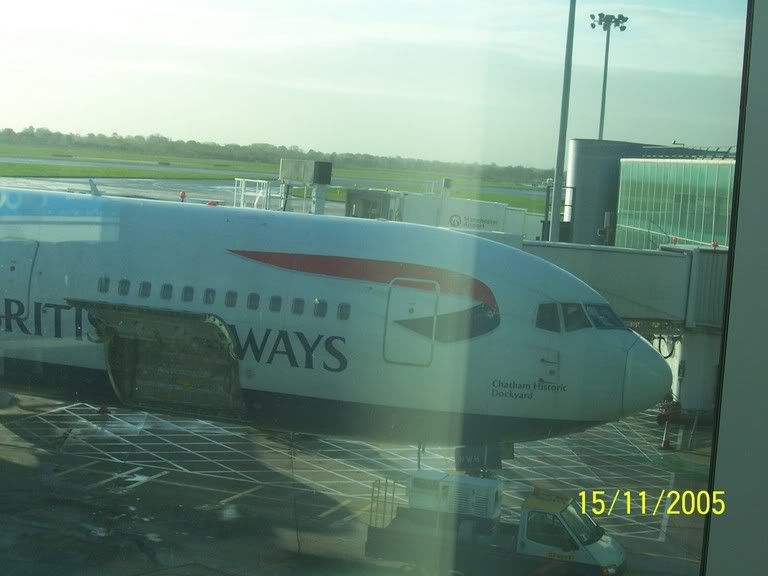 The BA 767 in the early morning sun.
Naturally there were smaller aircraft around too. Notably British Airways Dash 8s and ERJs.
A World Tail Dash 8 from the departure lounge.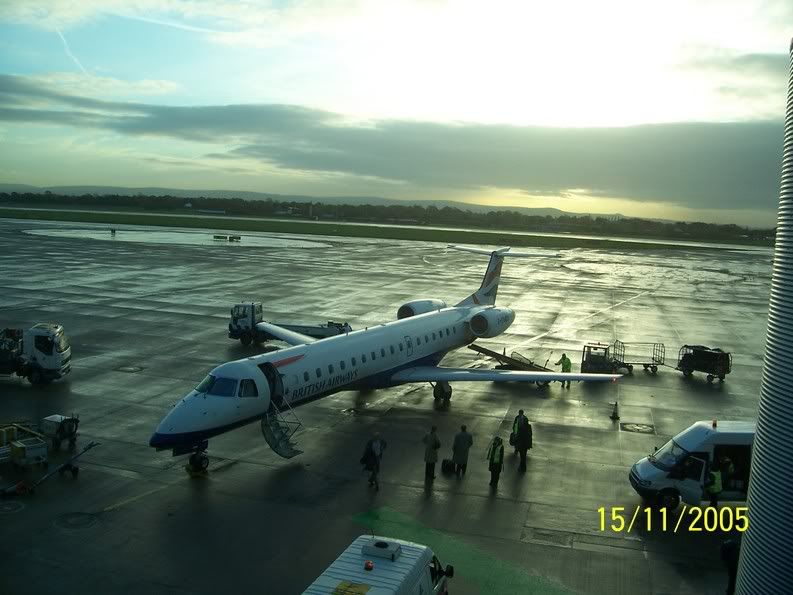 This little ERJ145 was destined for Madrid.