After losing our Christmas 2009 holiday (and therefore having no holiday in 2009), we vowed never again to use the filthy ferry or the ghastly thing which runs under the English Channel, and go back to our preferred method of getting away on holiday. We booked our flight from Leeds via a travel agent just outside Scarborough (useless Scarborough having no proper independent travel agents we could use) and he booked tickets for us through Brussels Airlines. This was the first time we had a ticket from a codeshare partner instead of the airline operating the flight, so for us flight BD1613 from Leeds Bradford to Brussels was flight SN5272.
We had never flown from LBA before and so had no idea what to expect. We spent Sunday 5th September in Bewleys in Leeds (this hotel chain had really gone down the pan from when we last stayed in a Bewleys a few years ago). On Monday 6th September we caught the bus from Leeds Station at just after 9am and enjoyed a pleasant journey to LBA.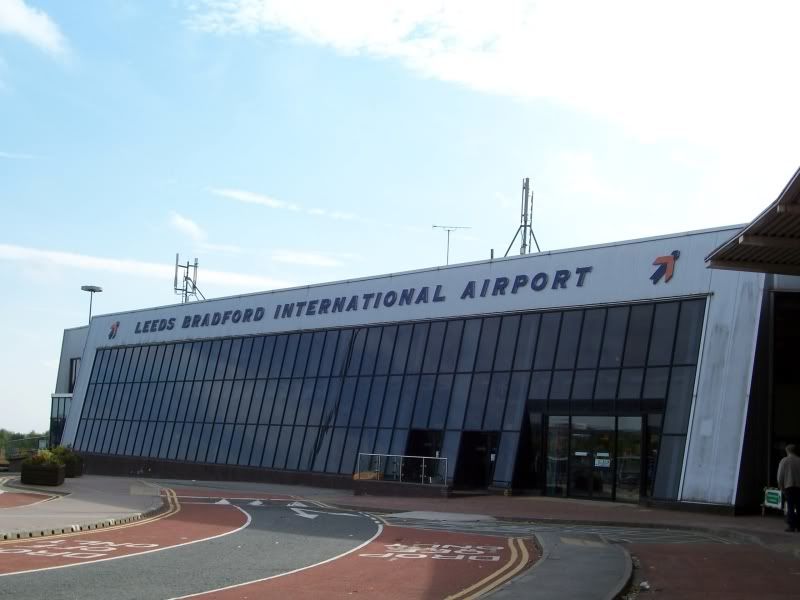 The terminal at Leeds Bradford.
When we arrived in the check in area, the self-check in machine was being repaired and we expected having to check in at the nearby desk, but it was soon fixed and we were able to check in. We each got a window seat - I was in 6A and my Mum was in 7A. The ERJ135 is three abreast - one seat on the left and two seats on the right of the aircraft.
After dropping off our hold luggage we went through passport control and security and into the departure lounge. There was a reasonable range of shops and places to eat and drink, but the one thing wrong with LBA was the fact that it is practically impossible to see the aircraft from the departure lounge, which did not please me one bit.
We were to depart from gate 010, so we made our way there and eventually caught a glimpse of our aircraft, BMI ERJ-135 G-RJXK.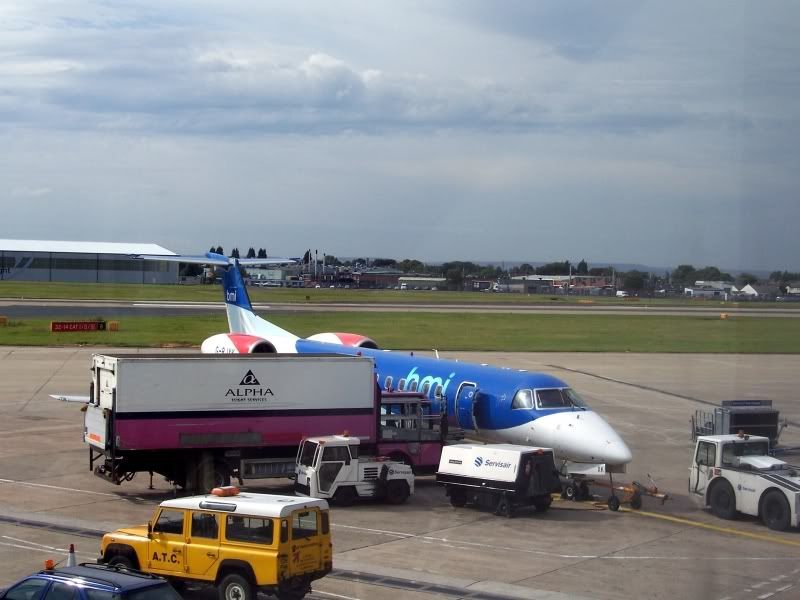 Our aircraft being prepared for flight.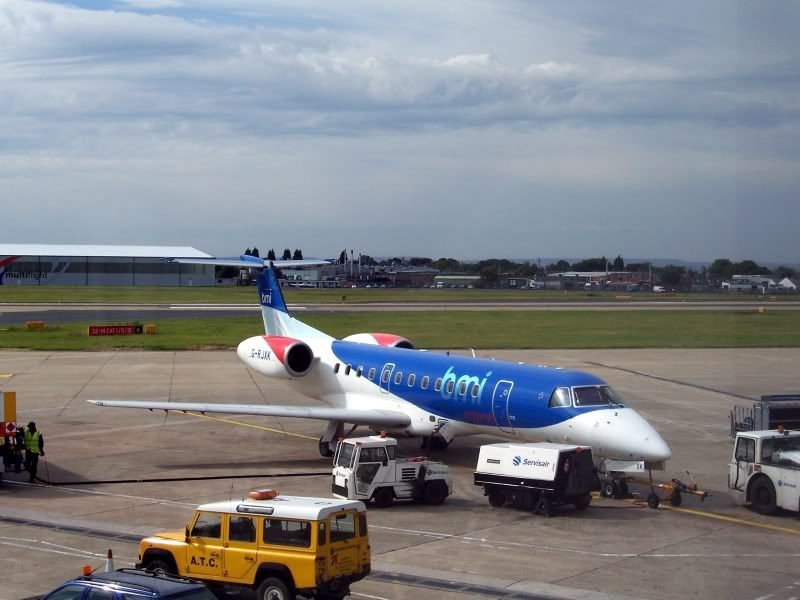 Just before boarding.
At 11:55 came the moment we had been waiting for - we were finally called to board, nice to know that this holiday had not been totally spoilt like the last one!
Boarding on the ERJ is via steps built into the door, these planes are very low to ground, the smallest airliners I have ever been in.
We were greeted by Flight Attendant Wendy and settled into our seats. The little ERJ has a surprising number of rows, and reasonable legroom for such a small aircraft.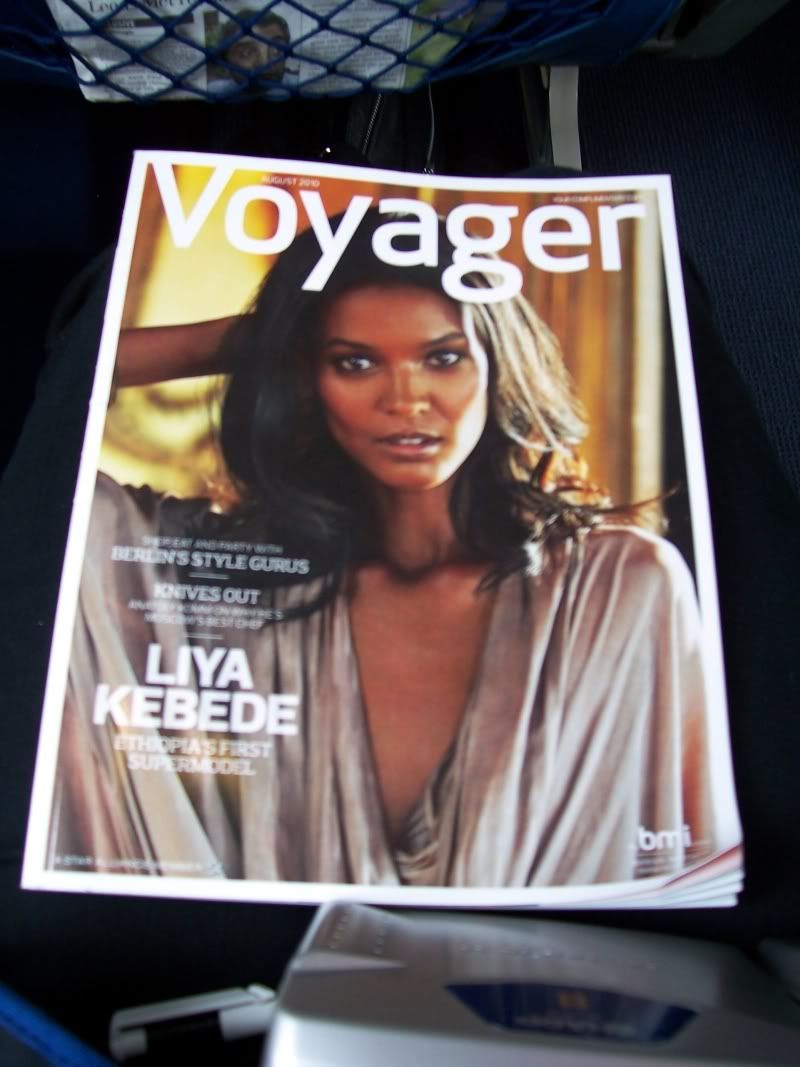 The August issue of the inflight magazine.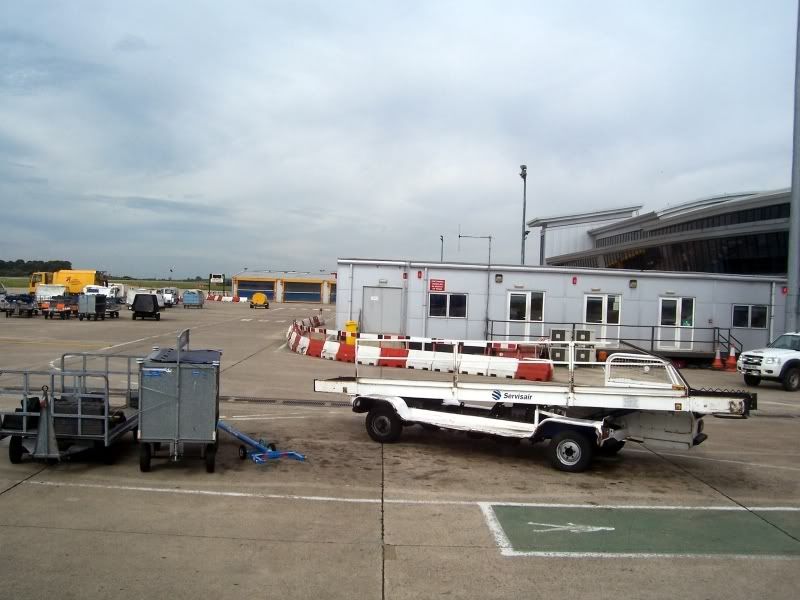 The view from my seat at LBA.